When it comes to choosing and installing a heating system in a commercial building, there are a lot of options open to you. So many, in fact, that it can feel a bit confusing at times! You want something that's going to be cost-effective, reliable and energy efficient, all while being the right size for your premises is and performing all of the functions you need it to. A decision made even more complicated by the fact that there are a number of different ways you can achieve the results you want! So, in order to help you provide a safe and warm environment for the people living or working in your buildings, we wanted to give you a quick overview of the types of heating systems available, how they work, and which are best for each type of building.
Gas & Oil Heating Systems
Gas and oil-based heating systems are typically older, and there are now more environmentally friendly ways to heat commercial properties with modern solutions. They work by using boilers fuelled by gas or oil to heat water and circulate it through pipes and radiators in the building. They are pretty resource-heavy, take a lot of time to heat and circulate, which makes them inefficient and costly to run. You may have inherited a building with this type of system already installed, but we would usually recommend you move away from them, as they are only really effective in office buildings that rely on spot heating.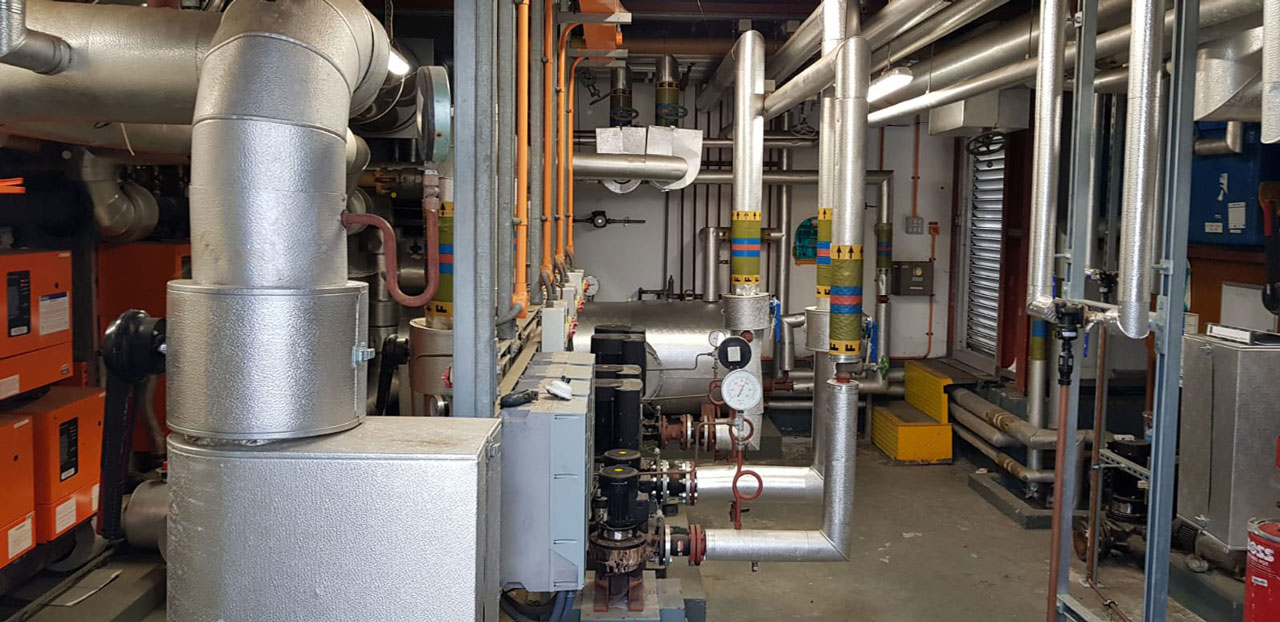 Heat Pumps 
Heat pumps absorb and transfer thermal energy from a low-grade source to a heating element (the pump's coolant) with a higher temperature, before dispersing it through the system to warm the space. You can get different types of heat pump depending on which source you want to use, but the main types are air source, ground source, water source and air to water. All of these are classified as renewable systems, since they use natural energy sources to provide heat to your building, and they are much more energy and cost efficient than pretty much any other type of heating solution. And the best part? Heat pumps can be installed in almost any commercial and even residential setting, which means you can reduce your energy bills and carbon footprint while providing effective heat to your building.
Under Floor Heating
Under floor heating has been around in residential properties for a long time now, but it's recently started gaining popularity in commercial spaces too. Using either hot water pipes (wet) or electrical cabling (dry) that are laid into the floor, you generate heat and rely on the natural properties of hot air to radiate up from the floor. This means less energy is lost, and the heat is felt more effectively by the people in the building. However, this method is only really appropriate for new builds, as installing it requires completely pulling up the flooring to install the pipes or cables underneath. So if you're building a new office, warehouse or other commercial building, this is an option to consider.
Unfortunately, there's no easy answer when looking at which heating system is best. There are so many variables from building to building and business to business that can drastically change your heating requirements. That's why we always recommend you speak to a specialist. At Bonus Eventus Maintenance we specialise in HVAC installation and maintenance, and are perfectly placed to help you find the perfect solution for your commercial heating needs. If you would like to know more, or have any questions about HVAC and heating systems in general, just get in touch with the team today.